5 Popular Kitchen Designs
Looking for a new kitchen or wanting to update your old one? But not sure what kind of styles are out there and where you can go with your kitchen design?
Let us give you a brief overview of the five most popular kitchen designs clients ask us for when they come to us at Dana Kitchens.
Laminate
If your goal is to create a sleek, contemporary and efficient kitchen design, you may want to consider laminate kitchen cabinets. Laminate is an affordable choice that is simple to maintain as well as clean and comes in 100's of different colours.
2 PAC
Poly kitchen doors are a great touch to a high-end kitchen look. Poly is a short abbreviation for polyurethane. There are up to three layers of paint on one door. The finish is long lasting and comes in 3 main finishes: Matt, Semi-gloss and High shine
HAMPTON STYLE
Hampton style is coastal and casual, yet elegant and refined. It represents relaxed coastal living, natural materials, classic shapes and lots of natural light. It gives a sense of cool sophistication that feels ideally balanced and relaxed. Hampton style is normally a hand painted finish.
CLASSIC/TRADITIONAL
Do you like the uncluttered clean lines of a contemporary kitchen? A classic kitchen will compliment any modern home and look as fresh and new as the day it was installed. The main feature of a traditional/classic style kitchen is the attention to detail and use of decorative accessories with sticking to a classic colour palette and enhancing the kitchen with luxury countertops, antique finishes and glazed cabinetry with simple splashbacks. Classic/Traditional style can be done in either 2 pac or hand painted finishes.
FRENCH PROVINCIAL
French Provincial kitchens are both rustic and understated. It is the essence and spirit of the French countryside. Country style kitchen can be designed as detailed as you desire. Choose from decorative corbels, to specially crafted canopies, add plate rack or even wicked basked to add to the effect. French Provincial style is normally a hand painted finish.
Now that you know the terminology and basics of the five main styles of kitchens our clients love, we look forward to helping you choose your favourite kitchen design and making your dream kitchen come alive.
Any questions? Contact us.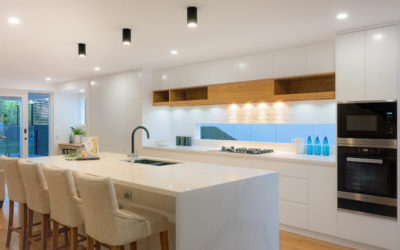 The care and maintenance of Natural Stone and Reconstituted Quartz is very simple, however if you are ever unsure, please do not hesitate to contact us or the manufacturer before attempting to clean your benchtop. For Caesarstone, Essastone and...