How To Look After Your Stone Benchtop
The care and maintenance of Natural Stone and Reconstituted Quartz is very simple, however if you are ever unsure, please do not hesitate to contact us or the manufacturer before attempting to clean your benchtop.
For Caesarstone, Essastone and Quantum Quartz and Smartstone please refer to the relevant website for their recommended care and maintenance and the product they ask you to use for your benchtop. www.caesarstone.com.au www.wk.com.au for Quantum Quartz www.essastone.com.au www.smartstone.com.au
Caesarstone and Quantum Quartz make their own branded cleaner which they recommend that you use.
*You can complete your warranty card online and if you have any queries, Caesarstone even have a video showing you how they recommend you clean your benchtops.
Straight methylated spirits in a spray bottle as your everyday cleaner, wiped with a dry cloth, is all that is necessary to keep the material clean. Avoid using soapy water and your dishwashing cloth as residue will build up over time making the top appear dull or dirty.
Do not use spray and wipe, ajax or any other multi-purpose cleaner.
Do not use scourers or steel wool on your benchtop. Do not use anything abrasive etc.
It is a good idea to use a soft cloth reserved just for cleaning your benchtops.
If in doubt, please call us or contact the manufacturer of the product BEFORE you attempt to clean the tops.
Do not use cleaners that contain acid such as bathroom cleaners, grout cleaners or tile and tub cleaners.
Do not expose your benchtops to solvents, nail polish etc.
Do not stand on your benchtops.
Do not use electric frying pans on reconstituted stone benchtops (Caesarstone, quantum quartz, Essastone). Please refer to the manufacturer's websites for their care advice and warranty terms. Use a trivet or thick timber chopping board to protect the benchtops.
Additional Info For Natural Stone
Prevention is the best cure, cooking oil, wine, vinegar, spice mixtures etc. are always around your benchtop. The best way to prevent any chance of them marking your tops is to clean spills up as soon as possible. Do not leave them overnight.
It is important that you clean up any spills as soon as they are detected. As good as stone sealers are, they cannot guarantee to protect every natural stone from every spill, prevention is the best cure. Particularly if you have had a large gathering or done a lot of cooking, it is advisable to check all surfaces afterwards and ensure they are clean.
Diluted or straight methylated spirits and a soft cloth are all that is required for every day cleaning. Do not use vinegar, lemon juice or other cleaners containing acid on granite, marble, limestone or travertine. Do not use aiax, spray and wipe or any other multi-purpose cleaners, etc. do not use bathroom cleaners tile cleaners etc.
Please note that this is a general guide only and advice should be sought for repairs, stain removal, re polishing etc.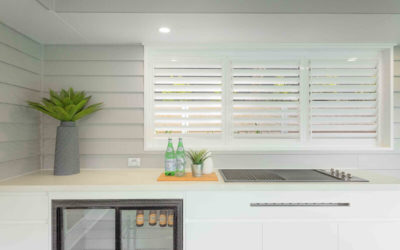 Looking for a new kitchen or wanting to update your old one? But not sure what kind of styles are out there and where you can go with your kitchen design? Let us give you a brief overview of the five most popular kitchen designs clients ask us...